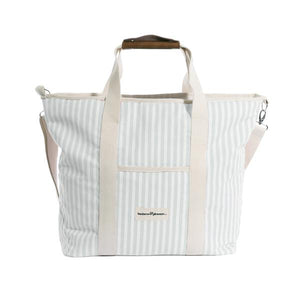 A Cooler Tote Bag for a day out with family and friends with space for all the picnic essentials and more. The perfect balance of style and practicality.
The Cooler Tote is made from B&PCo staple canvas with custom printed waterproof vinyl linings and stylish leather handles to help extend its good looks and function for years to come. 
SPECIFICATIONS
Materials: Cotton 40%, Polyester 40%, Waterproof Vinyl 15%, Leather 5%.
Dimensions: 16" L x 20" W x 8" H (41cm x 51cm x 21cm)
Holds approx 11 Gallons (42 L)
CARE
Avoid putting loose sharp objects inside cooler (like knives and forks).
Empty ice as it melts to avoid leakage and condensation.
Clean immediately after use and dry with a soft cloth.
Spot clean exterior with with a soft wash cloth. 
Store empty and with zipper open.
Do not machine wash.
Do not tumble dry.
Do not bleach.